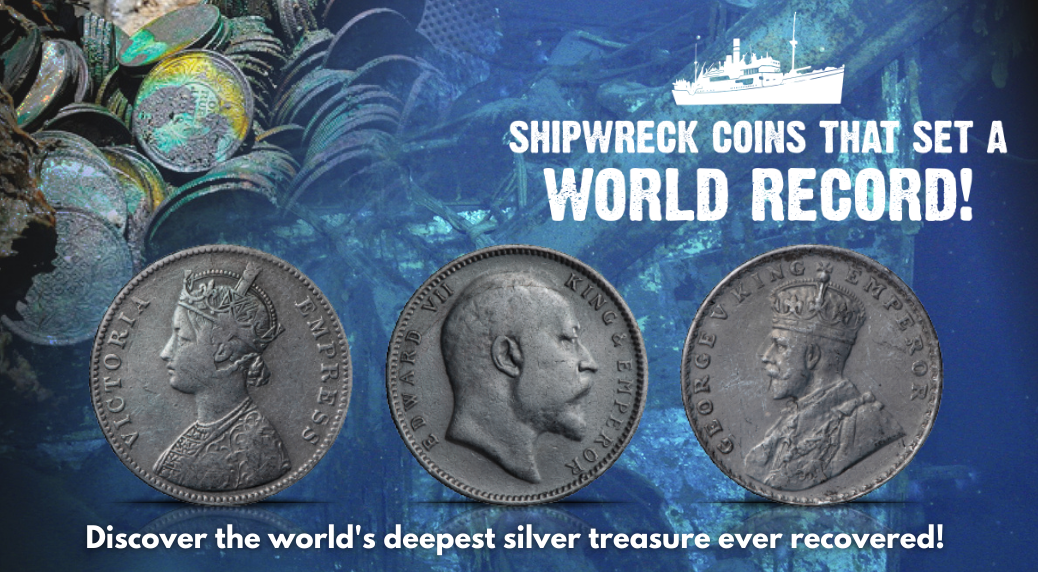 A WORLD RECORD BREAKING TREASURE!
The story of the SS City of Cairo is an incredible story of tragedy, treachery, courage, and endurance. On a cold November night in the South Atlantic during the Second World War, a wartime passenger ship carrying over 300 passengers and a top-secret cargo was torpedoed and sunk by a German U-Boat. As the ship sank, neither the Germans nor the passengers realised that the vessel contained an immense treasure of silver coins - worth over €34 million today! 
With no news of the sinking reaching the mainland or the nearest land, all hope for the survivors drifting in damaged lifeboats seemed lost. Yet, against all the odds, two-thirds were rescued, and a record-breaking salvage operation would later bring her secret treasure back to the surface and into the record books as it was rewarded the official world record for the deepest treasure recovery in history!
However, the ship and its cargo were presumed lost until 2011, when a specialist salvage team located the wreck among the ridges and canyons of the South Atlantic Ocean floor. In 2013, over 70 years after the SS City of Cairo sank, the Deep Ocean Search (DOS) team salvaged over €34 million worth of silver coins from the wreck in what has been officially certified as setting the world record for the deepest salvage operation in HUMAN HISTORY. The ship was located at a depth of 17,000 ft (that's 4,500 feet deeper than the wreck of the Titanic). But after a heroic effort, the salvage team was miraculously able to recover her previous cargo of silver coins and bring them back to the surface. The silver coins were finally returned to the treasury, and the news of the operation was made public in 2015. Unfortunately, nearly all the coins were melted for their precious silver value. 
Out of the 8 million coins that were recovered from the shipwreck, only 21,993 were saved (0.03%) - the rest were melted down for their silver value. We have worked tirelessly over the past six years to make these remaining coins available to our customers - and they should simply just not exist. The last of the surviving treasure from this historic shipwreck have been professionally conserved - giving our collectors a once-in-a-lifetime opportunity to own a genuine world-record setting silver coin that survived the deepest sunken recovery in world history!
This record-setting silver coin has literally travelled the world and has now travelled through time to be a silver treasure heirloom for you and your family. Every nick, every bit of toning, and every surface scuff bear witness to over 100 years of history. Don't let this opportunity pass you by and hold history in your hands today!