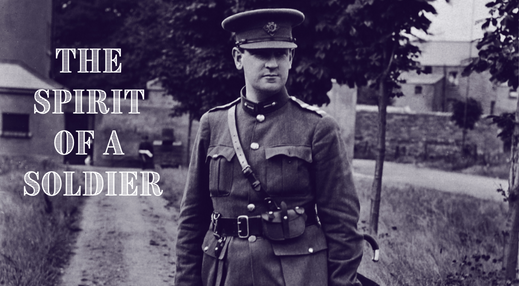 On this day in 1922: Michael Collins was tragically killed by anti-Treaty forces.
Today, we mark 100 years since the nation was rocked by the news of the ambush and assassination of the greatest and most influential leader Ireland had ever known. Michael Collins was a symbol of hope, purpose and determination, and we can be sure in saying that Ireland would be a completely different place to live today without his bravery and courage.
Aged six when his father died, it is said that on his deathbed, his father declared that Michael would be "a great man yet and will do great things for Ireland."
When the 1912 Home Rule bill for Ireland was passed, it set in motion a series of events that would spark unrest in Ireland. The growing tensions around this time would see the young Michael Collins fulfil his father's dying prophecy, to become one of the major figures in the history of twentieth century Ireland, and the person responsible for at last achieving our nation's freedom.
On 6th December 1921, when the Anglo-Irish Treaty was signed in Downing Street, London, Michael Collins was one of five men to sign it, which concluded the Irish War of Independence and paved the way for the creation of the Irish Free State. In that moment, Ireland's future changed forever.
Having dedicated his entire political career to achieving Irish independence, Michael Collins had finally done what he had set out to achieve – Ireland was now a Free State and the people had been given their country back "to live in, to grown in, to love".
Collins was made Chairman of the Cabinet and effectively, Prime Minister, of the new Provisional Government of 1922. Throughout that year, progress began to ready Ireland for the Irish Free State, and by August, the momentum of the Civil War seemed to be slowing. But Michael Collins' home county of Cork was still at the time considered dangerously anti-Treaty, and he was strongly advised not to visit.
He made the trip anyway, assuring his advisors that "they won't shoot me in my own county". But on his arrival at Béal na Bláth, Collins was spotted by anti-Treaty forces and his convoy was ambushed on its departure. He was struck by a fatal gunshot to the head and died almost instantly. He was just thirty-one years old.
100 years on from the untimely death of this national hero, we honour the man who made the ultimate sacrifice in securing Ireland's freedom, and whose stellar legacy is remembered still to this day.
On the centennial of his death, brought about by his relentless passion for his country's freedom, a brand-new and exclusive coin has been issued in honour of the man who led a nation to freedom, and is available to you as a FREE gift to the nation (plus €3.95 postage).