His father once declared that his six-year-old son Michael would become "a great man yet and will do great things for Ireland." There is no doubt that his son did indeed go on to do great things, although perhaps his father did not anticipate the enormity of what he had predicted.
His son's life work would be so profound, that nearly a century on from his death, Michael Collins is remembered to this day as one of our nation's most heroic leaders who guided Ireland to freedom.
He is one of, if not the most important figure of twentieth century Ireland, turning our country's dream into reality as he brought the Irish Free State into existence and put an end to the devastating war that took the lives of so many. An astonishing legacy that still stands to this day.
And we can be sure in saying that Ireland would be a completely different place to live today without his bravery and courage. Just the mere mention of his name reminds us of his efforts, and the gratitude the people of Ireland have for him nearly a century after his death.
He became a symbol of hope, purpose and determination. He was a true hero whose legacy was solidified in the history books forever when he signed the Anglo-Irish Treaty 100 years ago.
The result of tense negotiations, the signing of the treaty inside 10 Downing Street, London on 6 December 1921 concluded the gruelling, two-year Irish War of Independence, and paved the way for the creation of the Irish Free State. From that moment, Ireland's future changed forever. Having dedicated his entire political career to achieving Irish independence, Michael Collins had finally done it – Ireland was now a Free State and the people had been given their country back "to live in, to grown in, to love".
As we mark the anniversary of Michael Collins' death, you can own the Michael Collins: The Man Behind a Nation Gold Medal today for €99 (FREE P&P), struck in honour of our nation's most heroic leader.
Struck in 0.5 grams of pure Gold to collectors' quality, the medal depicts a brand new and never-before-seen image of Michael Collins, based on an original photograph.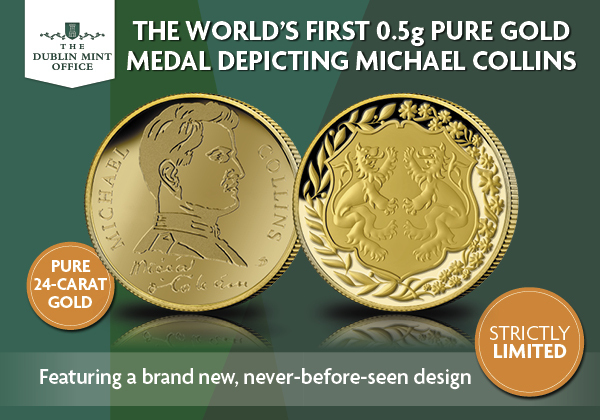 Fondly remembered by the Irish people as the brave visionary who paid the ultimate sacrifice in the name of national freedom, commemoratives bearing the depiction of Michael Collins are extremely sought after. Click here to order yours today.
Please rest assured, by ordering you have no further commitments and your purchase is protected by The Dublin Mint Office 14-day 'no quibble' guarantee.
To view the full Michael Collins: The Man Behind a Nation range, click here.