Star Trek: The Trouble with Tribbles Silver Coin
This fine silver coin recreates a fan-favourite scene from the popular 1967 episode The Trouble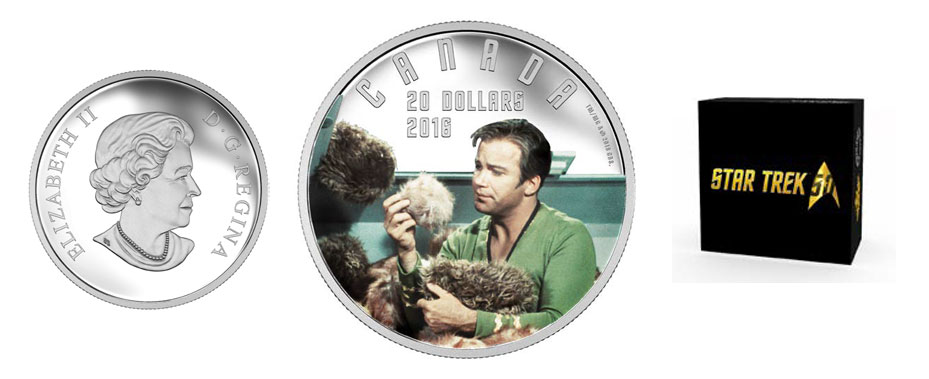 Star Trek: The Trouble with Tribbles Silver Coin
Star Trek Themed Coin 
3rd and final coin in series
Custom Collectors Display Pack
1-ounce, 99.99% pure silver coin!
Type:

Single

Availability:

Available
Price: € 115
Part of the Royal Canadian Mint's celebration of the 50th anniversary of Star Trek—a television series that is beloved by generations of people, and whose vision of the future helped inspire innovation in our time!
Third and final coin in a series featuring a pivotal scene from some of the most beloved episodes of the Original Series!
Past, present and (fictional) future meet in an exciting design: Cutting-edge engraving and finishing technologies recreate the image of Kirk half-buried in Tribbles, while the Star Trek font adds an authentic vintage feel.
Subscribe today to guarantee you get all three of these unforgettable 1-ounce, 99.99% pure silver coins!
Your purchase is protected by The London Mint Office 14 day "no quibble" return guarantee.
 You have no further obligation.

| | | |
| --- | --- | --- |
| | | |
| 100% Satisfaction Guaranteed | Quality & Authenticity Guaranteed | No further purchase obligations |
Specifications
Metal:

99.99% pure silver

Denomination:

$20

Mintage:

11,500

Weight:

31.39g

Size:

67mm x 67mm

Edge:

Serrated

Diameter:

38mm

Packaging:

Graphic beauty box
DESIGN
The reverse design recreates a key scene that has remained a fan favourite, even beyond the Star Trek community.
Selective colour brings to life the engraved image of Captain James T. Kirk (portrayed by Canadian actor William Shatner) in his green Starfleet uniform. He stands half-buried in a pile of small, furry creatures known as Tribbles, which have fallen out of an overhead compartment.