First and last issue – always the most sought after by collectors
Authentic pieces of history from the Gold Rush era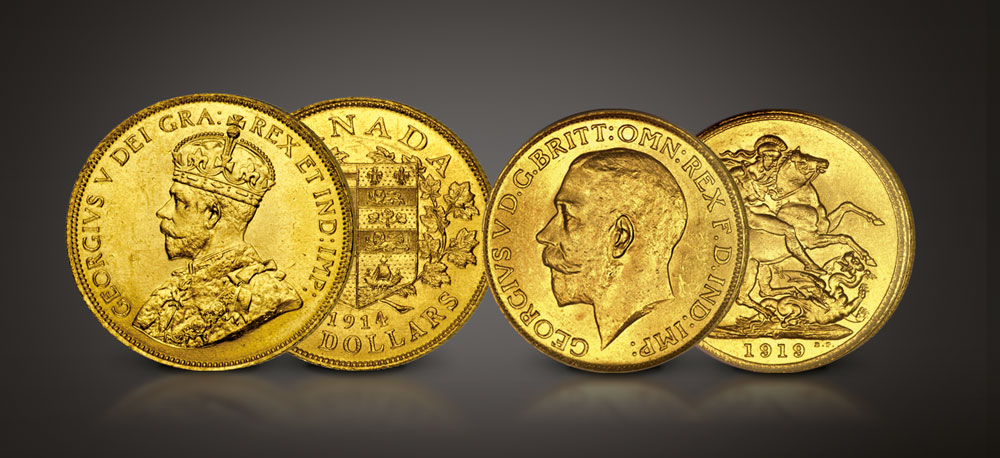 Sold Out!
Last Canadian Gold George V Set
First and last issue – always the most sought after by collectors
Should have been melted down when Canada came off the Gold Standard
1914 was the first year of WW1 where Canada helped the British Empire
1919 was the year the peace treaty was signed after WW1
Authentic pieces of history from the Gold Rush era
Type:

Single

Availability:

Sold Out!
Notify me when the product will be available.
This set features the last Canadian circulating gold coin as issued by King George V. Both of these original gold coins as housed in this special presentation set contain gold mined in the Klondike region of the Yukon in North West Canada which became the centre of one of the world's most famous gold rushes in 1896.
The 1919 Ottawa Mint Gold Sovereign
Issued during the year in which the Versailles Treaty was formalised, the 1919 edition depicts King George V in a portrait crafted by Edgar Bertram Mackennal RA, an Australian designer whose initials can just be seen at the bottom of the truncation. The small 'C' mintmark seen under the horse on the reverse confirms this as a coin of Canadian origin. As had been the custom since 1817, the obverse of the coin featured an engraving of St George slaying the Dragon by Benedetto Pistrucci.
The 1914 $10 Ottawa Mint Gold Coin
The 1914 edition was the last to be issued, though most of the 1914 $10 Ottawa Mint Gold coins remained in the vaults of the Bank of Canada for seven decades before being made available to collectors in 2012. Even without its First World War associations, the 1914 $10 Ottawa Mint Gold Coin is a handsome and historic coin in its own right. It is a truly Canadian coin in every sense, as it is composed almost entirely of gold from the Klondike region of Canada.
Specifications
Specification:

Sovereign

Metal:

22ct Gold

Weight:

7.98g

Issuing Authority:

Canadian Mint, Ottowa

Year of Issue:

1919

Obverse:

Portrait of King George V by Mackennal

Reverse:

St George and the Dragon

Specification:

Gold $10

Metal:

90% Gold

Weight:

16.72g

Issuing Authority:

Canadian Mint, Ottowa

Year of Issue:

1914

Reverse:

Shield bearing the then Canadian coat of arms, composed of the provincial arms of the Dominion of Canada: Ontario, Quebec, Nova Scotia, and New Brunswick. The shield is encircled by graceful maple boughs. The inscription "CANADA" is engraved above

Obverse:

Portrait of King George V by Mackennal