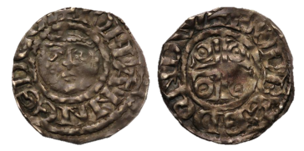 The Prince John Irish Half Penny
These coins are exceptional in not only being the very first coins with this significant title but also, unlike Prince John's English coins, having his own name upon them.
Own the coin that would be the first to depict names of the towns in which they were struck.
History in your hands
Type:

Single

Availability:

Low
Price € 297
Own an original 'Prince John Half Penny' today!
In around 1190 the very first issue of coins to be minted in Ireland with the title Lord of Ireland, known by coin experts as the 'Dominus' coinage, were struck and this is what you can hold in your hand. Most coins of this issue read IOHANNES DOM a shortened version of IOHANNES DOMINUS HIBERNIAE (John, Lord of Ireland)
These coins are exceptional in not only being the very first coins with this significant title but also, unlike John's English coins, having John's own name upon them
In England John's coins are all struck with his father's name as a show of respect to the late king. Prince John's 'Dominus' coinage were first struck in Dublin then later on other mints were opened in Carrickfergus, Kilkenny, Limerick and Waterford. This would be the first time the names of these towns would appear on any coin
The obverse features a profile portrait of John with the legend IOHANNES (or a contracted form)
The reverse design was of a central cross with a lis in each angle and the moneyers name (Tomas and Norman types available) around the periphery
Metal:

Silver

Grade:

Fine

Weight:

0.6g

Diameter:

15.24mm

Issuing Country:

Ireland

Denomination:

Half Penny

Year of Issue:

1177-1216
Own an original 'Prince John Half Penny' today!
In around 1190 the very first issue of coins to be minted in Ireland with the title Lord of Ireland, known by coin experts as the 'Dominus' coinage, were struck and this is what you can hold in your hand. Most coins of this issue read IOHANNES DOM a shortened version of IOHANNES DOMINUS HIBERNIAE (John, Lord of Ireland)
These coins are exceptional in not only being the very first coins with this significant title but also, unlike John's English coins, having John's own name upon them
In England John's coins are all struck with his father's name as a show of respect to the late king. Prince John's 'Dominus' coinage were first struck in Dublin then later on other mints were opened in Carrickfergus, Kilkenny, Limerick and Waterford. This would be the first time the names of these towns would appear on any coin
The obverse features a profile portrait of John with the legend IOHANNES (or a contracted form)
The reverse design was of a central cross with a lis in each angle and the moneyers name (Tomas and Norman types available) around the periphery
Specifications
Metal:

Silver

Grade:

Fine

Weight:

0.6g

Diameter:

15.24mm

Issuing Country:

Ireland

Denomination:

Half Penny

Year of Issue:

1177-1216