Complete your Seven Signatories medal set
save €20.00 when complete today!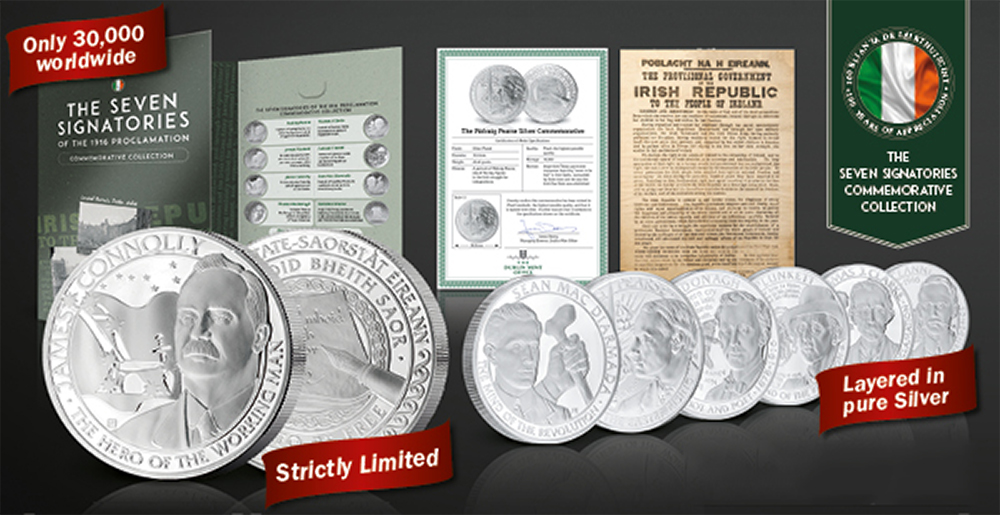 Complete your Seven Signatories medal set
Minted in the highest possible quality
Fully layered in pure silver
Strictly limited mintage - only 30,000 medals worldwide
Collect all of the remaining medals to complete your Seven Signatories Collection!
Type:

Collection

Availability:

Available
Price: € 29.95
Order the James Connolly medal today – save €20.00!
Start today by ordering the James Connolly commemorative medal, depicting a portrait of James Connolly, an Irish republican and socialist leader, featured with the Plough and the Stars. Normally €49.95, the layered in pure silver can be yours today for only €29.95 with a total saving of €20.00.
You will then receive the five remaining medals at monthly intervals, entirely on approval, for only €49.95 (plus €3.95 P&P). You may return any medal within 14 days and cancel at any time.
Complete sets are always more valuable to collectors
Demand to complete the Seven Signatories medal sets is very high as complete sets are always more valuable to collectors. However, the low edition limits means less than 1% of Irish citizens will be successful in securing the complete set. An immediate order is imperative for the best chance of securing your set and your €20.00 saving.
Six portraits of our Irish heroes
Each of the six remaining medals in the set have the same low edition limit of only 30,000 worldwide and are layered in pure silver. Each of the medals depicts the portrait of one of the Seven Signatories, together with their name and a fitting individual inscription. The commemoratives all share a common reverse design inspired by 'Amhrán na bhFiann' ('A Soldier's Song'), which was first coined during the Easter Rising and adopted as the national anthem of the Irish Free State in 1926.
Specifications
Metal:

Layered in pure silver

Quality:

Proof

Weight:

28.40g

Diameter:

38.61mm

Issued By:

The Dublin Mint Office

Year of Issue:

2016

Limitation:

30,000