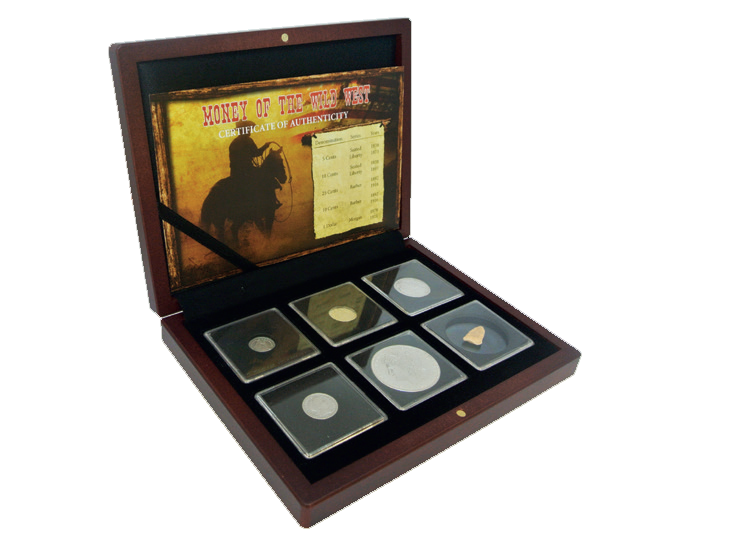 Money of The Wild West 5 Coin Set
Five genuine, high quality coins from the Wild West period
Included is a real Indian arrow head – a genuine artefact that cannot be owned by many
Beautifully presented in a wooden collector's box and including a Certificate of Authenticity
 
Type:

Single

Availability:

Medium
Price: € 270
The second half of the 19th century saw dangerous and exciting times on the American Frontier. It was an age of cowboys, pioneers, outlaws and gunslingers – all making their way to Western America in the hope of securing land occupied by Native American tribes.
Many legends have come out this, the most adventurous times on the American continent, but none as exciting as the outlaws; Billy the Kid, Black Bart, Jesse James, and Butch Cassidy and the Sundance Kid to name a few.
What better way could there be to capture the excitement and danger of the old west than by owning original coins once found in the pockets of these cowboys, outlaws and sheriffs more than 170 years ago!
Each of the coins in this set are original, high-quality artefacts from the Cowboy era. Accompanying these is a real Indian arrowhead - a genuine artefact that can be owned by few.
Beautifully presented in a wooden collector's box and includes a certificate of authenticity, this set really relives the times of the Wild West.
The Morgan Dollar
First minted in 1878 and known as a 'cartwheel' because of its impressive 38.1mm size. Named after the future Chief Engraver of the Philadelphia Mint, George T. Morgan, it was struck without interruption from 1878 to 1904.
The Barber Dime and Quarter
The Barber series were struck at the turn of the last century and are both historically and numismatically important coins. Produced between 1892 and 1916 by Mint engraver Charles E. Barber, these coins have been desired by collectors for the past 50 years.
The Seated Liberty 10 and 5 Cents
With minting beginning as early as 1838, the seated liberty coins are the oldest in this Set. Not yet reaching ancient status – now is probably the best time to start collecting Seated Liberty coins, especially dimes and half dimes.