Order your Official WBC Rumble on the Rock 'Whyte Vs Povetkin' £2 Coin today for just €19.95 (plus €3.95 P&P)!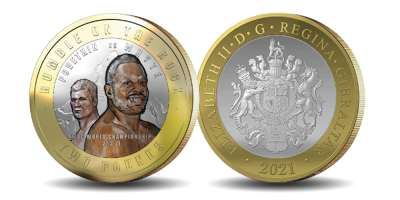 On Saturday the 27th of March, heavyweights Dillian 'The Body Snatcher' Whyte and Alexander 'Russian Vityaz' Povetkin took to the ring and fought head-to-head in a battle to win the title of Interim WBC Heavyweight Champion. The match which was given the name of 'Rumble on the Rock' was initially scheduled for November last year, but due to Povetkin testing positive for COVID-19, it was re-scheduled for this later date.
The fight took place at the Europa Point Sports Complex in Gibraltar, in front of 500 spectators – making it the first post-covid large scale sporting event in Western Europe – a step in the right direction towards normality!
And after one of the most exciting matches in boxing history, a winner was declared – our very own Dillian Whyte.
To mark this momentous fight, a beautiful coin has been struck and it is one that will certainly be remembered for years and years to come. Not only is it the first coin to be officially struck for the World Boxing Council but it is the first time a living boxer and person of colour has appeared on a sterling denominated coin! Three incredible world's firsts in one limited-edition!
There are over 500 million Boxing fans all over the world and so with just 25,000 coins available worldwide – it really puts into context just how limited this coin actually is! And what's more, it is exclusive to my customers!
Dillian Whyte himself has said that it is a 'great honour for someone like me to go down in history as the first boxer, and first black man, to feature on sterling currency," and "I can't believe that someone that comes from where I come from and has been through what I've been through can be honoured in this way."
Rest assured, you have no further commitments, and your purchase is protected by The Dublin Mint Office 14-day "no quibble" guarantee.
Specifications
Denomination:

Two Pounds

Quality:

Brilliant Uncirculated

Metal:

Bi-Metal

Weight:

12g

Diameter:

28.4mm

Issuing Country:

Gibraltar

Year of Issue:

2021

Limitation:

25,000