Michael Collins became one of the most prominent organisers of the nationalist cause following the events of the 1916 Easter Rising. He was a leading figure in the fight for independence and his negotiations with the British led to the laying of foundations for the Irish Free State.
A remarkable man by his own merit, Michael Collins was just one of a number of brave men who paid the ultimate price to achieve the long-cherished dream of Irish independence. On Easter Monday 1916, a group of republicans gathered outside the General Post Office building to witness Padraig Pearse read aloud the Proclamation of the Irish Republic that bore seven signatures.
With the signing of the Proclamation, the signatories signed their own death warrants. They were held at Kilmainham Gaol and executed by firing squad for their involvement in the rebellion.
The thought of British forces performing the executions of Irish nationals on Irish soil enraged the country, causing a dramatic turnaround in public opinion. The seven signatories became icons, and symbolised what it was to be true Irish patriots.
You have the exclusive opportunity to be one of just 200 people to secure the Seven Signatories Commemorative Medal Set, struck to the highest possible Proof quality and beautifully layered in Silver that celebrates those who laid the foundations for Ireland's freedom.
Featuring the images of the seven brave men who tirelessly fought for independence, the medals all share a common reverse design inspired by 'Amhrán na bhFiann' ('A Soldier's Song'), first coined during the Easter Rising and adopted as the national anthem of the Irish Free State in 1926.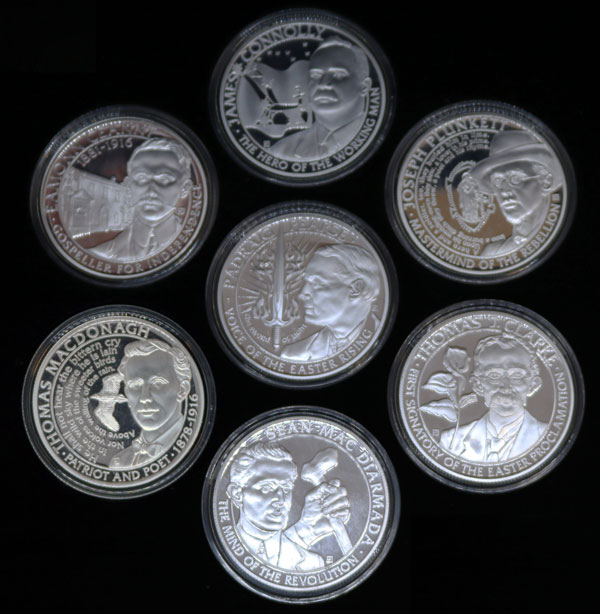 Specifications
Specification:

7 Signatories Commemorative Medals

Metal:

Layered in Pure Silver

Quality:

Proof

Weight:

28.40g

Diameter:

38.61mm

Year of Issue:

2015

Limitation:

30,000